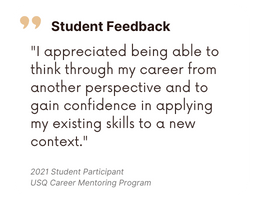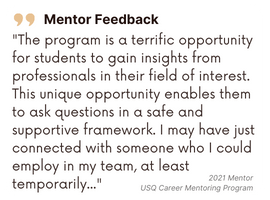 The UniSQ Career Mentoring Program allows current students to connect with industry professionals to help prepare for the transition from university to employment. This program aims to enhance students' knowledge and understanding of industry, and expand their professional networks. This mentoring connection can motivate and inspire students by guiding them to develop a clearer focus on what their career path can look like. It also provides mentors with the opportunity to meet and learn from upcoming talent at UnisQ.
Are you ready to:
Gain an insight into your chosen industry?
Build your confidence and develop skills to help your career journey?
Prepare for the transition into the workforce?
Learn about the recruitment process
Be inspired to pursue your career goals?
Receive valuable feedback from an industry professional?
Expand your professional network?
Key dates for the Industry Connect Mentoring Program 2023:
Round 1: CLOSED
Round 2: 14 August-22 September (Applications due 26 July)
Round 3: 20 November-15 December (Applications due 1 November)
What now?
Elegibility, further information and the registration link can be found here.