Fellowships to futureproof state infrastructure
UniSQ researchers lead exploration into engineering solutions
Two University of Southern Queensland researchers have been named among this year's prestigious Advance Queensland Industry Fellows, with their work set to strengthen the state's infrastructure.
Through the fellowship program, Dr Hamid Ahmadi received $240,000 to investigate the application of newly developed composite materials to improve the resilience of marine infrastructure. Dr Andy Nguyen was awarded $360,000 to develop a novel AI technology to monitor the structural and health conditions of Queensland's transport tunnel network.
Part of the Queensland Government's Advance Queensland strategy, the Advance Queensland Industry Fellowships program facilitates collaboration between research and industry on major technological, environmental and social challenges, helping the state's scientists to create the industrial engines needed to make Queensland a global innovation economic powerhouse.
Dr Ahmadi's project will address issues caused by the 2022 East Coast Floods, which led to $5.5billion in damage to critical infrastructure, including parts of Queensland's marine navigation system that allows boats to safely traverse coastal areas and waterways.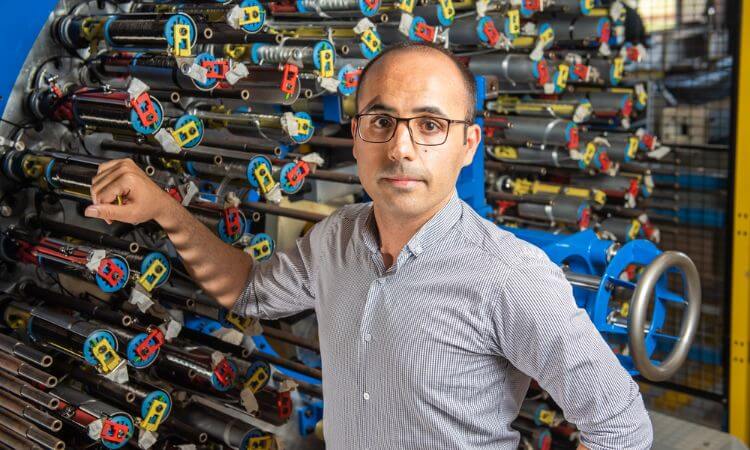 Dr Ahmadi will be joined on his project by engineers from Wagners Composite Fibre Technologies and Maritime Safety Queensland as well as three UniSQ postgraduate students.
"The maritime industry was one of the sectors that was greatly impacted by the 2022 Queensland floods," Dr Ahmadi said.
"This is a sector which supports some 4,600 jobs and contributes approximately $1billion to the Queensland economy each year.
"Supporting this industry is Maritime Safety Queensland, which helps to manage the movements of vessels through our waterways using aid-to-navigation structures, many of which were damaged during the floods.
"As part of this project, we aim to develop a new aid-to-navigation structural system made of composite material which is highly durable against fluctuations in the marine environment.
Currently, Queensland's aid to navigation systems are built using steel, a material highly susceptible to corrosion.
Dr Ahmadi and team will investigate the use of a material incorporating glass fibre reinforced polymer (GFRP) as a steel substitute."GFRP is corrosion resistant, which makes it an ideal candidate for use in salt water," he said.
"It also has high strength, which will help the structures withstand vessel impacts, and a high fatigue resistance, which will make it durable against the waves.
"The use of these composites will decrease the need for maintenance, saving around $3.7million each year, and prevent marine pollution.
"They can also be implemented immediately, which will help to support the expansion of the state's fibre composite industry."
Dr Andy Nguyen, an engineering specialist, will use his fellowship to develop a novel AI-powered automated structural condition and health monitoring technology to advance condition management and digital engineering of the transport tunnel network in Queensland.
The technology will rapidly and accurately uncover the structural condition of tunnels in real time in the field to enable rapid assessment and decision making and ensure greater public safety than what the current condition assessment methods offer.
The project promises to deliver strong outcomes for Queensland including a significant reduction in maintenance costs and the creation of an AI-driven technological platform for upskilling civil and asset engineers in Queensland in years to come.
Learn more about UniSQ's Centre for Future Materials and Engineering faculty.