Congratulations on your graduation!
On behalf of the University of Southern Queensland, I would like to formally congratulate you on the successful completion of your academic program at the University of Southern Queensland. We commend you on your academic, professional and personal successes and accomplishments throughout your studies.

While we're unable to celebrate with you in person at present, please accept my own, and the Chancellor's well wishes. We'd like to share this video of the in absentia conferral of your award which would typically take place at a graduation ceremony.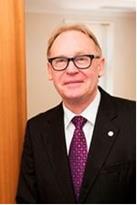 Mr John Dornbusch, UniSQ Chancellor
I offer you my sincere and hearty congratulations, and look forward to your continued involvement with UniSQ, as one of more than 100,000 very proud alumni making a difference to their local, national and international communities worldwide. The COVID-19 pandemic means that your graduation has not happened in the way you would have imagined throughout your many years of study. However, I would urge you to take a moment and really savour your achievements, and to acknowledge your hard work and the sacrifices you and your family and support group have made to get to this point.
Professor Geraldine Mackenzie, UniSQ Vice-Chancellor
Graduation is such an important milestone for graduands and their families, so please accept my warmest congratulations on this achievement. Although we are not able to mark this occasion in the usual way, your graduation is a great personal accomplishment, which will be shared by your family and friends who will certainly be proud of you. Everyone at UniSQ, especially the academic staff from your discipline area, also takes great pride in your graduation and we wish you well as you move into the next phase of your life as a UniSQ graduate.
As a graduate of the University, you automatically become a UniSQ Alumni, part a growing network of more than 100,000 alumni around the world. With this comes many benefits, including access to alumni chapters and groups, exclusive job opportunities and much more. Be sure to connect with our UniSQ Alumni Team to find out more information.

Once again, congratulations on your outstanding achievement and welcome to our UniSQ Alumni community.
Kind Regards
Professor Geraldine Mackenzie
Vice-Chancellor