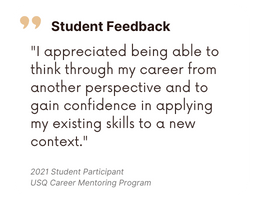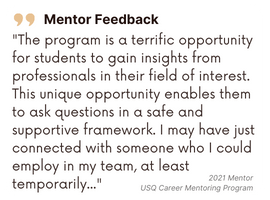 The UniSQ Career Mentoring Program allows students to connect with industry professionals to help prepare for the transition from university to employment. This program aims to enhance students' knowledge, understanding and professional networks, and provides mentors the opportunity to meet and learn from upcoming talent in the industry.
The students:
The Career Mentoring Program is open to all year levels, study disciplines and programs at UniSQ.
Type of connections:
Students can be connected with a Mentor as a one-off meeting or for an ongoing connection.
For ongoing connections, you are able to close the connection at any point, but we do suggest staying connected for the program round (see key dates table below), as the students will receive fortnightly guidance from UniSQ until the end of the round.
Time commitment:
The time you allocate towards this program is up to you and your mentoring partner. However, we do suggest 1 hour a fortnight for the length of the round.
Key dates for the 2022 mentoring rounds:
| | | | | | | |
| --- | --- | --- | --- | --- | --- | --- |
| | Students to submit a mentoring connection request by | Notification of your mentoring match by | Start date | Goals due *1 | End date *2 | Round length |
| Round 1 | 1 March | 16 March | 21 March | 3 April | 29 April | 6-weeks |
| Round 2 | 8 July | 20 July | 25 July | 7 Aug | 2 Sep | 6-weeks |
How the program will run:
On the start date of the round, you will be e-introduced to your mentoring partner and provided a Goal Setting task to complete together.
*1 Within the first 14 days of the round, you will be asked to submit your Goals to the Program Administrators via an online worksheet.
*2 You will be informed if your connection is through a one-off connection (which is a one-off meeting with your mentoring partner) or an ongoing connection. If an ongoing connection, students will receive fortnightly guidance until the end date of that round.
You will gain access to activity ideas and resources on the online Activity Portal, and
Program Administrators will be checking-in throughout the program and are available for any questions you may have.
Mentor Registration Process
Mentors can submit their interest (Mentor Bio) here
Step 1. Complete Mentor Bio
Step 2. Program Administrators will design your Mentor Profile and send you a version for approval. Once approved, your profile will be made available on the student registration portal for students to view.
Step 3. Program Administrators will contact you with an overview of your potential mentoring partner. You will be asked to approve or decline the mentoring request.
Step 4. Refer to 'how the program will run' above.
Student Registration Process
Students can access the registration portal here
Step 1. Complete Mentee Profile
Step 2. Review the list of Mentor Profiles on the registration portal
Step 3. Submit a 'request for a mentoring connection' with the name of your desired mentor (from the Mentor Profiles provided) OR a description of the type of mentor you are looking for. Refer to the key dates table above for the due dates of this submission (8 July or 7 November).
Step 4. Before you are connected in a mentoring connection you will be asked to book in for a phone appointment with the Program Administrators so we can confirm your interest and understanding of the program.
Step 5. Refer to 'how the program will run' above.
Online Activity Portal for Connected Participants
UniSQ Mentoring, Activity Portal link: coming soon
This site is only available to those students and mentors currently connected in a mentoring relationship as part of this program. On this site, we will share with you activity ideas, potential discussion topics and resources to support your mentoring connection. You are welcome to engage with all the content on this site by using the comments section attached to each post, but as priority, we encourage you to connect with your mentoring partner directly.